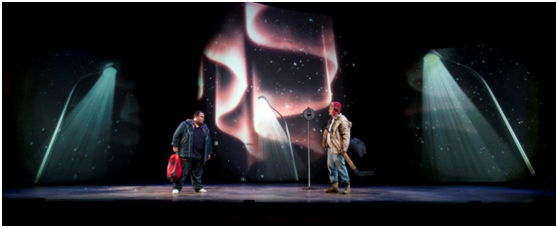 Today, on February 24th, Canadians are encouraged to practice kindness by participating in Pink Shirt Day, an initiative that supports anti-bullying across the country.
With bullying rates in Canada ranking higher than 2/3 of Western countries, and 75 percent of Canadians saying they have been affected by bullying, Pink Shirt Day is at the forefront of a nationwide anti-bullying movement.
From humble beginnings supporting one bullied teenager in Nova Scotia, to helping thousands of youth in Canada, Pink Shirt Day has raised over $1.2 million towards anti-bullying initiatives in B.C. that directly help youth in need.
At the Robert L. Conconi Foundation we share the same vision: a future with zero bullying. We work with charitable organizations throughout B.C. to identify children and youth at risk, and help them to develop, model, and foster healthy relationships. In keeping with our commitment to the cultural sector on a provincial scale, we have chosen to highlight a compelling project that creates authentic discussion around the realities of bullying at any point in life: Vancouver Opera's brand-new, originally-commissioned chamber opera, Stickboy.
We caught up with Joseph Bardsley, (Development Manager, Grants & Proposals) at Vancouver Opera, to chat more about the powerful and universal anti-bullying messages found in Stickboy. The opera's libretto (words) are by slam poet and spoken word artist Shane Koyczan, and directly inspired by his own autobiographical (lived) experiences as both a bullying victim and subsequent aggressor. Stickboy was originally published by Mr. Koyczan as a novel in verse in 2008. In 2012, having discovered the novel's power and potency, Vancouver Opera made the decision to begin the process of adapting it for the stage.
About Stickboy:
The inner life of a young boy is at the heart of this moving and meaningful new opera by world-renowned spoken-word artist Shane Koyczan and composer Neil Weisensel. Stickboy confronts the uncomfortable reality of a society struggling with its own fear and insecurity; a society that seeks conformity and uniformity at the expense of those who are different.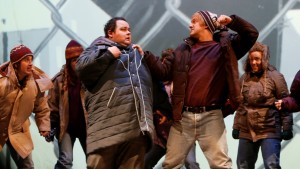 Stickboy's dynamic, multi-disciplinary and compelling format makes a case for the continued social and artistic relevancy of opera as a medium. The piece's thoughtful alchemy of music, spoken word, and digital animation connects its message to a broader and more diverse audience than typically enjoyed by many standards of the operatic repertoire, and lays the groundwork for audience and community engagement at a level not always enjoyed by Vancouver Opera. The great success and impact of Stickboy's world premiere production at the Vancouver Playhouse in October 2014 has given rise to VO's decision to adapt the project for a 2016 BC provincial tour. The touring iteration of Stickboy's visually-stunning world premiere will feature specially-adapted visuals, designed and animated by Giant Ant, the producers of Mr. Koyczan's monumentally popular video "To This Day". Shane Koyczan's own recorded narrations will also be employed throughout parts of the adapted opera for thematic effect.
Vancouver Opera's ultimate goal for Stickboy is for the project to inspire reflection, conversation and community dialogue in equal measure on a provincial scale.
What's Next for Stickboy?
The Vancouver Opera in Schools (VOIS) touring production of Stickboy has been adapted from Vancouver Opera's inaugural production, and designed specifically for secondary school audiences. Stickboy's touring production launched on January 16th, 2016, and will now be on the road for the next few months. Between January and May 2016, Stickboy will be presented at least sixty times in B.C. schools and community venues, equating to an audience impact of over 20,000. Schools and community groups that program the piece will also receive a specially-crafted study guide, developed by VO educational staff and a specially-tapped community advisory committee, to place the production in an appropriate thematic and educational context at the secondary school level.

Moreover, Stickboy's original, full-scale production has attracted attention and interest in potential future re-mounts from Vancouver Opera's sister companies across Canada, including Pacific Opera Victoria, Theatre Calgary, and Manitoba Opera. Vancouver Opera is proud to report that Stickboy's future as a fully-fledged fixture on opera stages across the country is very bright!
Stickboy's accessibility and musical and dramatic value, coupled with its social credibility, makes the case for how and why opera has the capacity to connect with contemporary audiences in an incredibly powerful way.
Very limited space is available for invited audiences to performances of Stickboy at select Metro Vancouver schools in late March and early April 2016. For more information, please contact Joseph Bardsley directly, at 604.682.2871, or jbardsley@vancouveropera.ca.
For more information about Stickboy, visit: http://www.vancouveropera.ca/learn/schools/secondary/vois_on_tour
About Vancouver Opera In Schools (VOIS):

Vancouver Opera In Schools is one of the largest opera touring programs of its kind in Canada. In continuous operation since 1972, VOIS maintains a tradition of professional opera performances in schools throughout British Columbia.
Each season, VOIS introduces the power and beauty of opera to children and their families in schools and community venues across BC. These fully staged operas are adapted into English, and are performed by an energetic cast of professional singers with full sets, costumes and piano accompaniment.
Stickboy's provincial tour is made possible, in large part, thanks to an extraordinary investment from the Province of British Columbia, as well as through the vision and generosity of many individuals, government agencies, foundations and corporations. Vancouver Opera acknowledges each contributor with thanks.
"Having been bullied for most of my life, I know what it feels like to be alone, and to feel worthless. Hell, I've even attempted to end my life more times than I can count. My arms are flooded with battle scars I gave myself, thanks to venomous words spat from people's mouths. Shane, your words have made me want to fight and better myself. You've saved me from myself. Being able to share in the story of this opera gives me the strength to want to help others like me."
– Anonymous Stickboy comment card, left in the lobby of the Vancouver Playhouse (2014 world premiere)