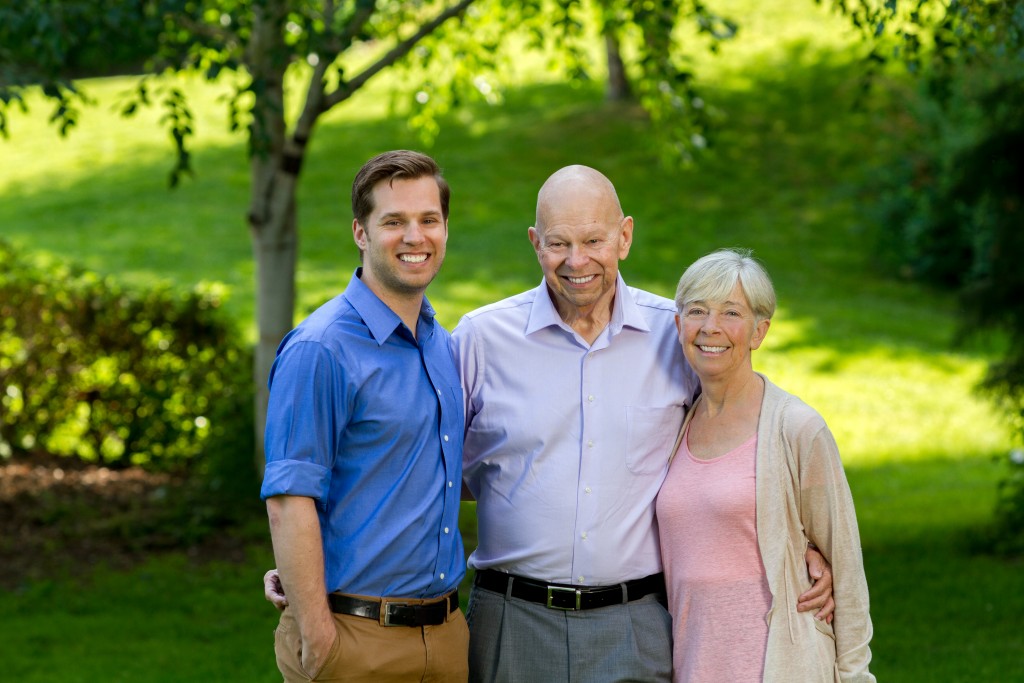 NEWS RELEASE  – September 15, 2015
B.C.'s Conconi Family to Match Donations Dollar-for-Dollar up to $1M
Funds to Help Launch Immunotherapy Clinical Trials
VANCOUVER, B.C. – The BC Cancer Foundation and Robert L. Conconi Foundation announce an exciting opportunity that will see donations matched up to $1 million in support of an innovative new cancer treatment for B.C. patients
Robert Conconi believes he owes his life to cancer research and the hard working scientists and clinicians at the BC Cancer Agency after successful cancer treatments years ago.
When Robert's eldest son Alex learned of an emerging area of cancer research called immunotherapy, he was immediately drawn to the promise of harnessing the potential of a patient's immune system to successfully eliminate every remaining cancer cell.
"We believe immunotherapy is the most promising and highly personalized new cancer treatment in development," said Alex Conconi of the family's commitment to match donations to the BC Cancer Foundation dollar-for-dollar up to an incredible $1 million.
A specific form of immunotherapy—adoptive T cell therapy— has been in development at the BC Cancer Agency's Deeley Research Centre over the past decade under the leadership of Dr. Brad Nelson. The research team is in final preparations for clinical trials, which will require significant philanthropic funds to support the development of each custom T cell therapy.
Dr. Nelson explains: "Each patient involved in the Agency's immunotherapy clinical trial will have a custom treatment developed using T cells from their own body. The T cells will be activated and multiplied so they launch a highly effective cancer destroying campaign once administered back into the patient."
Over 25,000 British Columbians will be diagnosed with cancer this year, and thousands of those individuals will be facing advanced or recurrent disease for which immunotherapy provides a new treatment option.
"We hope British Columbians will join Alex Conconi and his family as they offer an incredible opportunity to match gifts to the BC Cancer Foundation and drive a breakthrough change in cancer care," says Lou Del Gobbo, Interim President & CEO, BC Cancer Foundation.
The matching gift opportunity will run until October 22, 2015 to help launch clinical trials for a made-in-B.C. immunotherapy approach to cancer treatment. Make a gift online today at bccancerfoundation.com/conconimatch
-30-
Media enquiries please contact:
Allison Colina,
Communications Manager
604-707-5934
604-802.6984
The BC Cancer Foundation is the bridge that connects philanthropic support and research breakthroughs in cancer knowledge.  As the fundraising partner of the BC Cancer Agency and the largest charitable funder of cancer research in this province, we enable donors to make contributions to leading-edge research that has a direct impact on improvements to cancer care for patients in British Columbia. We fund with the goal of finding solutions. Visit www.bccancerfoundation.com to make a donation or to learn how you can make a difference in the lives of those affected by cancer.
The BC Cancer Agency, an agency of the Provincial Health Services Authority, is committed to reducing the incidence of cancer, reducing the mortality from cancer, and improving the quality of life of those living with cancer. It provides a comprehensive cancer control program for the people of British Columbia by working with community partners to deliver a range of oncology services, including prevention, early detection, diagnosis and treatment, research, education, supportive care, rehabilitation and palliative care. For more information, visit www.bccancer.ca.
Robert L. Conconi Foundation: Established in 2003, the Robert L. Conconi Foundation is a private family foundation started by Robert and Diane Conconi. Our mission is to inspire and empower individuals throughout British Columbia by supporting organizations in the areas of health, poverty, education and the arts.  The Robert L. Conconi Foundation believes everyone deserves a chance in life, regardless of their circumstances. For more information on the Robert L. Conconi Foundation, please visit, www.conconi.org