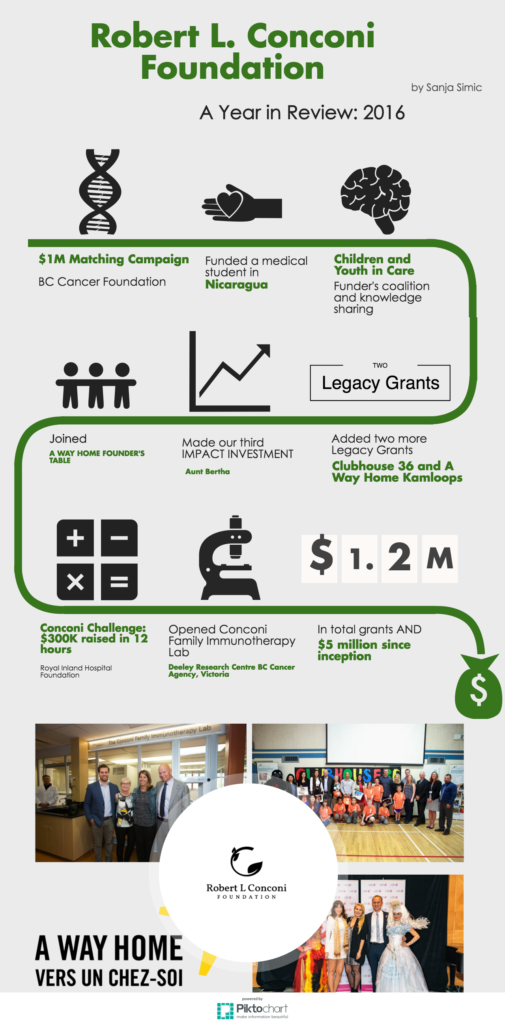 This past fiscal year has included some groundbreaking milestones and initiatives for the Robert L. Conconi Foundation. From Conconi Challenges to the opening of the Conconi Family Immunotherapy Lab, there are so many fantastic highlights to look back on! To wrap-up the year, our Executive Director, Sanja, shares her thoughts on the Foundation's achievements and the year ahead.
---
My letter last year discussed triple bottom line and the good side of leverage as something we look to prioritize as a foundation. This past year, we continued to put these concepts into practice.
We successfully wrapped up a Conconi Challenge with Canuck Place Children's hospice raising over $300K for the organization which is the only pediatric palliative care provider in the province. RLCF then partnered for a second time with the BC Cancer Foundation this time in a $1 million matching campaign that wrapped up with the gala event in October raising $2.1 million through the match, thanks to over 5,000 BC donors who responded to the ask.
As we got to know the depth of expertise at the BC Cancer Agency and an incredible potential of an immunotherapy program, we decided to commit additional $1 million for a construction of the immunotherapy lab. Just last month, we officially opened the Conconi Family Immunotherapy Lab, situated at the Deeley Research Centre in Victoria. We are expecting first patient clinical trials to start in early 2017.
Since we like leveraging our gifts, we embarked on another matching campaign – with our old partners, Royal Inland Hospital Foundation. In just 12 hours, through a local radio campaign, and with the incredible support of the Kamloops community of donors the campaign raised over $300,000 for the hospital.
Last year brought a new coalition, a national initiative on ending youth homelessness – A Way Home Canada. On provincial level (A Way Home) we partnered with United Way (Thompson Nicola Cariboo), City of Kamloops and Interior Family Services to fund the implementation of A Way Home model in their community.
The program is set up to assist youth transition out of homelessness. This became our fourth Legacy Grant focusing on children, youth and young families. If you've been following us you may recall that we are now in our second year of funding Clubhouse 36, an inner-city after school program in Surrey, BC, as well as two programs supporting homeless mothers with small children: Aboriginal Mother Centre and YWCA CrabTree Corner.
We have another busy year ahead of us and I look forward to sharing more updates in the future.
Best,
Sanja Simic