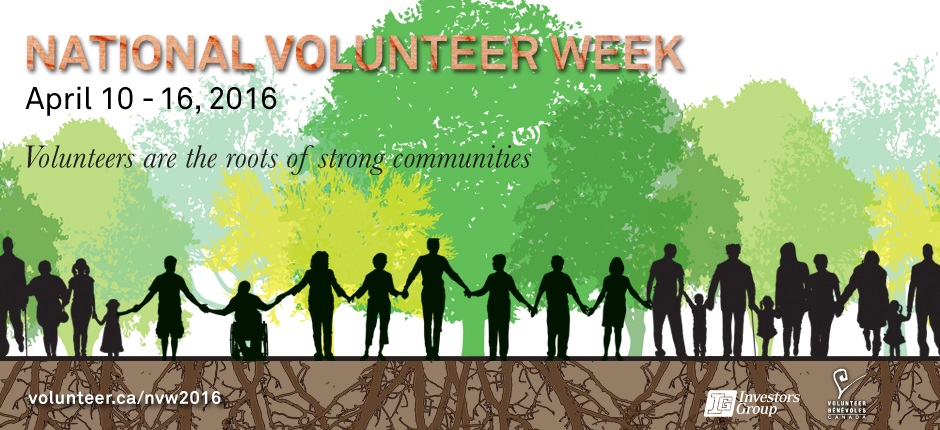 April 10 to April 16, 2016 is National Volunteer Week (NVW), a time to celebrate and thank Canada's 12.7 million volunteers. To honour this special week, we caught up with our friend Jill Wurflinger, a volunteer since 1988 and a volunteer Engagement Professional since 2001.
"Volunteers are the roots of strong communities. Just like roots are essential for trees to bloom, volunteers are essential for communities to boom. Thanks to volunteers, our communities grow strong and resilient. Even the tiniest volunteer effort leaves a profound and lasting trace in a community, much like tree rings that appear over time."
How do we adequately thank the volunteers who form the roots of the programs and initiatives that contribute to so many of communities?
Over my years of volunteering I've received all manner of thanks – certificates, plaques, pins, dinners, handshakes, pats on the back, and of course the ubiquitous gift cards. I've heard a volunteer about to receive a 50 year long service award exclaim "don't give me another painting or framed picture, I've not got any wall space left!"
I've worked with Vancouver's famous Blue Jackets at the 2010 Winter Games, some of whom were thanked by their delegations with a full uniform and so much swag, they asked me for extra bags to carry it all home; while other Blue Jackets volunteered their hearts out for a delegation that could only afford to give them a t-shirt and a pin as a thank you.
Some people like the accolades and the attention – many more couldn't imagine anything worse than having to get up on stage at a volunteer awards banquet. While one group expects a certain level of celebration, another bristles at the idea that a not-for-profit is spending hard-earned fundraising dollars on the volunteer appreciate event.
There are definitely volunteer engagement specialists who come to dread this time of year, knowing that for every volunteer who is recognized with an award, there are five more sitting in the audience or reading about it and wondering "why wasn't I picked?"
So what can we do for all volunteers to ensure they feel appropriately thanked?
What if I told you it's not complicated and it is accessible to all of us? And then what if I told you that it wouldn't break the bank either?
There are two things I know that each of us can all do that will all the difference for our volunteers: just ask and pay them with meaning.
Just ask is just as simple as it sounds: ask your volunteers what would be a meaningful way to say thank you to them. I guarantee you will hear some surprising responses – things like "well, I'd really like to know the outcome of that fundraising campaign – I only brought in $120 but how much did we raise overall?" or "I'd love to attend the meeting and hear the response to the proposal we put forward together." Others would like to take part in a meeting with a branch doing the same thing in another parts of the country, while some just want to hear a quiet and sincere "thank you, that little piece that you contributed played a huge role in the success of our program."
Pay them with meaning is one of those things that is so simple. When you stop to think about it, you'll wonder why you didn't do it before – and hopefully, you'll never not do it again! Too often we cast a wide net when looking for volunteers and are just happy when we get warm bodies through the door to help us. We don't start by asking the volunteer what he wants to do, we don't ask what she could contribute that I don't currently have or know about. We ask accountants to be the treasurers and grab the person who specializes in research and analysis to do the event set up – and then we say a quick thanks at the end of the event as we are running past them and then wonder why they don't come back.
When we ask volunteers "what is it that you are interested in contributing and what do you want to get out of this experience?" and then connect them with impact and purpose, we are saying thank you in the most respectful, genuine way possible; we are paying them with meaning. And those are the volunteers who come back again and again, leaving that profound and lasting trace in a community, yes, just like the tree rings that appear over time.
Jill Wurflinger
Volunteer since 1986
Volunteer Engagement Professional since 2001