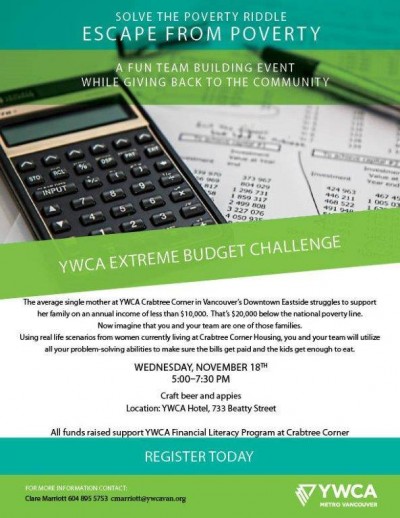 Did you know that the average single mother at YWCA's Crabtree Corner is trying to support her family on an annual income of $10,000 or less? That's $20,000 below the national poverty line. You may know that through our Legacy Grant we sponsored YWCA Crabtree Corner. On November 18th, they are organizing a remarkable event and we wanted to share some details with you and hope to see some of you there!
About the Financial Literacy Challenge
Inspired by the Financial Literacy Month, The YWCA's Crabtree Corner is hosting the Extreme Budget Challenge on November 18th to raise funds for YWCA's Financial Literacy and peer mentoring Program. As a funder of this program we are excited to kick it off!
The Challenge calls on teams of 2-4 people to engage in real life scenarios, designed by women currently living at Crabtree Corner. Participants will utilize all of their problem-solving abilities to make sure the bills get paid and the children have enough to eat.
The goal is to raise $20,000, so the YWCA can continue to deliver the Financial Literacy and Peer Mentorship Program at YWCA Crabtree Housing.
The Financial Literacy Challenge concept was created by the women currently in the Financial Literacy Program, and designed to allow participants the chance to experience the financial struggles and hardships of the average single mother in Vancouver's Downtown Eastside. 
How it to Get Involved
There are a few ways you can get involved:
Make a direct donation
Create a fundraising team- teams are made up of 2-4 people from the organization and will be asked to participate in the budget challenge on Nov 18th.
Become a title sponsor of the event itself, contact Maia Gibb at YWCA
When: Wednesday November 18th, 2015 5PM-7:30PM
Where: YWCA Hotel, 733 Beatty Street
About Crabtree Corner
Women living at Crabtree Corner Housing are among the most marginalized people in our community. They are often street-entrenched women, who are pregnant or learning to parent their children in a healthy, safe way as they manage and heal from their addictions to drugs and alcohol. With the supports from YWCA programs and staff, these women are committed to being healthy parents and personally and financially independent role models for their children.
The program is specifically designed to meet the unique needs of low-income, street entrenched mothers living in Crabtree Corner Housing. The program combines peer mentorship, group and one-on-one financial counseling, and skill development resources.
To learn more, visit the program website or watch Sarah's video, where she shares her personal experience with Crabtree Corner.