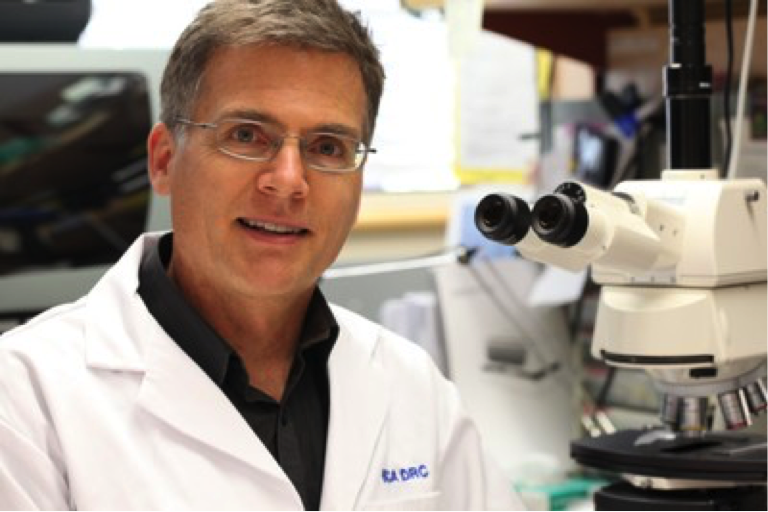 I am thrilled about the Conconi family's $1 million matching gift offer and what it could mean for immunotherapy clinical trials!
The research that we've pioneered here at the BC Cancer Agency over the past decade is going to dramatically change the way we treat cancer and usher in a bold new future. I know that we can accomplish so much, harnessing the patient's own immune system to recognize and destroy the cancer that threatens their lives. This is one of the most promising new treatments out there!
We already know that T cells circulate through our bodies searching for infected or diseased cells to destroy. These T cells can even form memory cells to mount an immune response again if ever threatened by the same pathogen or cancer.
Here are the next steps for our clinical trials program:
Our work to boost the response of a patient's T cells against cancer involves collecting, activating, and multiplying the T cells in a specialized lab, then infusing them back into the patient's bloodstream.
That means that a patient's own immune system can kill residual cancer cells that may have escaped conventional treatment. And because of their "memory", the T cells will be able to attack cancer cells if they try to grow again in the future.
We're now ready to commence the building of a state-of-the-art "clean room" where we can grow large numbers of T cells for use in clinical trials. To ensure patient safety, this highly specialized work needs to be performed in a dedicated, sterile, certified lab.
We're also hiring a world-class team of research technicians, coordinators, data managers, and other highly-skilled staff to carry out this research.
Once everything is in place, we will be able to offer clinical trials to cancer patients in B.C. who otherwise have no remaining treatment options.
This work will save lives. Without a doubt. We're seeing immunotherapy results from around the world showing unprecedented success against melanoma, leukemia and cervical cancer.
So we need to start immediately.
That's why I'm hopeful that this initiative will receive the full $1 million the Conconi family is willing to match.
Knowing how passionate British Columbians are about creating the best health care for our province, and how compassionate they are when it comes to considering the families that are affected by cancer, I'm confident supporters will rally around our program and give as generously as they can!
I'd like everyone to understand just how urgently we need their donations to get immunotherapy clinical trials off the ground.
Sincerely,
Brad Nelson

Distinguished Scientist and Director,
 BC Cancer Agency Deeley Research Center
The Robert L. Conconi Foundation is matching donations given to the BC Cancer Foundation up to $1 Million. Donate today until Oct 22nd and lets help save lives and launch immunotherapy clinical trials. To donate, click here.