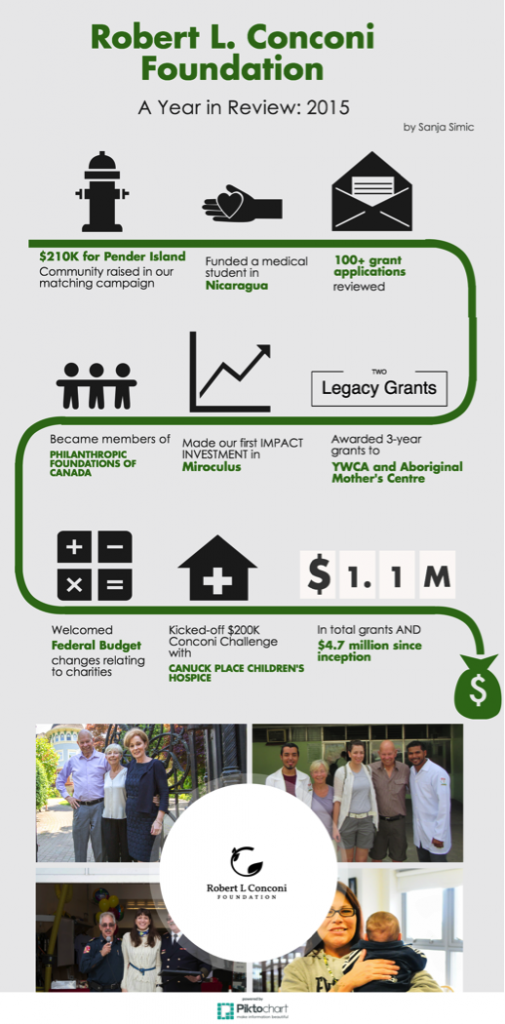 This past fiscal year has been an exciting one at the Robert L. Conconi Foundation. From the Conconi Challenge to the Legacy Grants, there were so many highlights! To wrap-up the year, our Executive Director Sanja shares her thoughts on the Foundation's achievements and the year ahead.
---
The good side of leverage…
As I write this letter yet another Conconi Challenge campaign is underway and gaining momentum. The Conconi Challenge is a granting program of Robert L. Conconi Foundation where our committee selects (after a long and detailed due diligence process) a charity to partner with. We then work together with the organization to develop a matching fundraising effort and leverage the funds being gifted.
We strongly believe that this is a triple win model, meaning it meets the objectives of the charity, our foundation and most importantly the general public and individual donors who are really the ones making it a success. The testament on how strongly we believe in this type of collective resource mobilization to drive collective impact is the fact that 25%-50% of our annual granting is dedicated to matching initiatives. The philosophy and reasoning is simple: if it takes a village to raise a child, it takes a lot more than that to support our children, youth and families of BC and we can't do it alone.
Covenant House Vancouver: in June 2014 we successfully achieved our $150K match target or total of $300K + raised for a charity that serves homeless and at risk youth out of their two facilities in Downtown Vancouver. Annually, some 1,600 youth access a range of services from drop-in care to emergency shelter to transition to independence housing program called Rights of Passage.
Pender Island Fire Training Facility: last summer, the Pender Island Community through our challenge campaign raised over $210K. The funds were designated for the important infrastructure work at the Fire Hall #1 on Pender Island to support the new Fire Training Facility that will serve Pender Island and the nearby Gulf Islands.
Canuck Place Hospice: I mentioned earlier that we launched another successful campaign this summer. Canuck Place Hospice is the only palliative care provider in the Province and therefore is the only place for B.C. families that are faced with unfortunate circumstances where they need to use such services.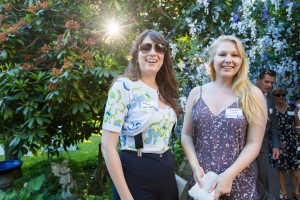 In addition to the Conconi Challenge, this year we've awarded two Conconi Legacy Grants to two organizations working with the same goal in mind: supporting (and reuniting) mother's and children living in poverty and without shelter to sustainable independent living. Our Legacy Grants are not matching grants but a 3-year funding commitment of $50,000 each year.
Aboriginal Mother's Centre Society: the organization has 16 housing units and a suite of wraparound services to support Aboriginal mothers and their children and assist them in transitioning towards independent living.
YWCA Crabtree Corner: the organization has 12 housing units and wrap-around services providing housing and support for mothers and children who otherwise would be on the streets. With our Legacy Grant we supported the financial literacy and peer-to-peer mentoring program for women at the Crabtree Corner.
We are deeply thankful to the armies of individual donors who have responded to our challenges and hope that through our various blog series you can get a glimpse of what impact these collective contributions have made.
Stay tuned for more exciting announcements from us as we embark on yet another fiscal year journey and this one will be a busy one!
With thanks,
Sanja
---
Follow us on social media, or reach out to us in the comments below!
Facebook: Robertlconconifoundation
Twitter: @ConconiFndn
LinkedIn: Robert L. Conconi Foundation