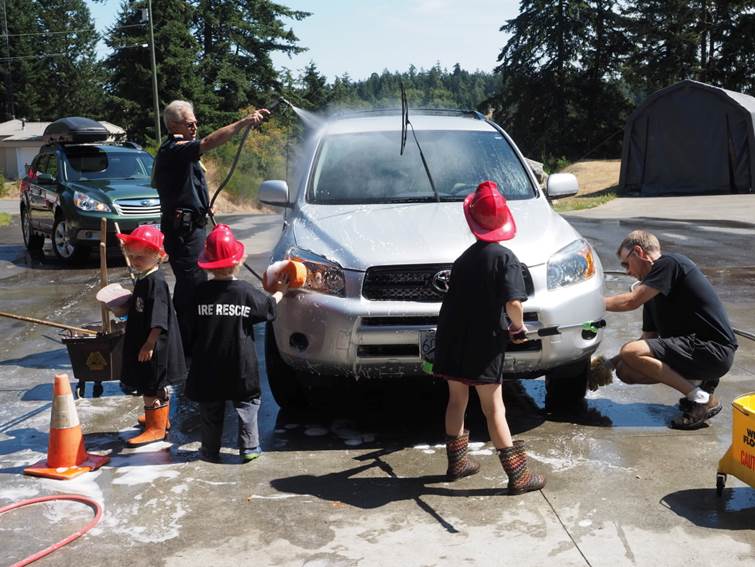 Welcome to our RLCF Champion blog series, where we recognize individuals or organizations that give back to their community and impact people's lives in a meaningful way.
As our first RLCF Champion, we wanted to showcase the Pender Island Fire Rescue (PIFR) Department and the amazing individuals in the community who volunteer their time as firefighters, first responders or fundraisers to help keep the community safe. You may remember in October when the community of Pender Island came together and raised $210,000 towards the Advance Fire Training Facility. As a key catalyst in this fundraising efforts and the driving force behind the training camps, we caught up with the Deputy Chief of PIFR, Mike Dine, to share his story, the importance of a great training facility and their innovative job share program structure that helps keep their community safe.
Tell us a bit about your background and how you got involved with the Pender Island Fire Department…
Mike: I moved to BC from Ontario in 1998, got recruited and began volunteering at the Pender Island Fire Rescue almost immediately. It was an eye opening experience moving from the city to a small community because it makes you recognize the services we too often take for granted. In communities like Pender Island, unless volunteers drive services such as fire fighting, they don't exist. Volunteering is fulfilling and exciting, but it is also a need.
You and your family are very involved with the Fire and Rescue Youth Training Camp – can you tell us more about the camp?
Mike: We started the Youth Fire and Rescue Training camp in 2005 to teach youth how to work together, build their skills, and most importantly empower them. The most incredible thing is the building of self-esteem and self-confidence in these young people, especially our young female cadets. It's tough, scary work – there's no way you can't feel empowered. The camp runs every two years, is run completely by volunteers, and is funded with help from partners such as the school board, fundraising groups and organizations like the Conconi Foundation.
What type of training do fire fighters receive now vs. with the new facility?
Mike: Right now we are fundraising for a new training facility because we don't have the resources necessary to simulate and train with live fire. The new facility will have more realistic training scenarios; ensuring firefighters will be able to recognize what to do at an actual structure fire. In small rural communities such as Pender Island, you only get 3-4 real structure fires a year, but the rarer the occurrence the greater the need for proper training. The training needs to be realistic as possible in order to be effective so they know what to do in a real situation. That's why we're working so hard to get this new facility.
What is the importance of the new training facility for Pender Island residents?
Mike: The most important thing is to keep people safe and serve the community – it's about being able to provide the most realistic and most effective training so our firefighters are able to operate at the highest possible level. That's what motivates myself and the team here, we know that's the most important piece. Secondly, in the new facility, disciplines such as rope rescue, structural collapse can be trained and certified under one roof. Lastly, the new facility will act as a satellite training headquarters for neighbouring islands, allowing residents to train locally.
What are some of the biggest challenges you've faced during your time volunteering with the Fire Department?
Mike: Recruitment and retention is our biggest challenge in such a small community. This leads to other challenges like creating a training program and operating it on a volunteer basis.
What do you feel most proud of/biggest accomplishment during your time volunteering with the Fire Department?
Mike: Stemming from our challenges of recruitment and retention, one of our biggest successes and a concept that is unique to the Pender Island Fire Department is our job-sharing program. We've separated out jobs based on our volunteers' strengths, which has resulted in more people coming through the hall and doing things that we wouldn't have been able to do before. We now have over 100 active volunteers specializing in everything from firefighting to fundraising. We're drawing on all strengths from our community, and our volunteers all share the commonality based on their desire to help their community.
Do you want to help the Pender Island Fire and Rescue Society build their new training facility? Visit their website and donate.
Connect with RLCF on social media!
Facebook: RobertLConconiFoundation
Twitter: @ConconiFndn
LinkedIn: Robert L. Conconi Foundation